Weather in Scotland: Heavy rain warning in the west closes the A83 Rest and Be Thankful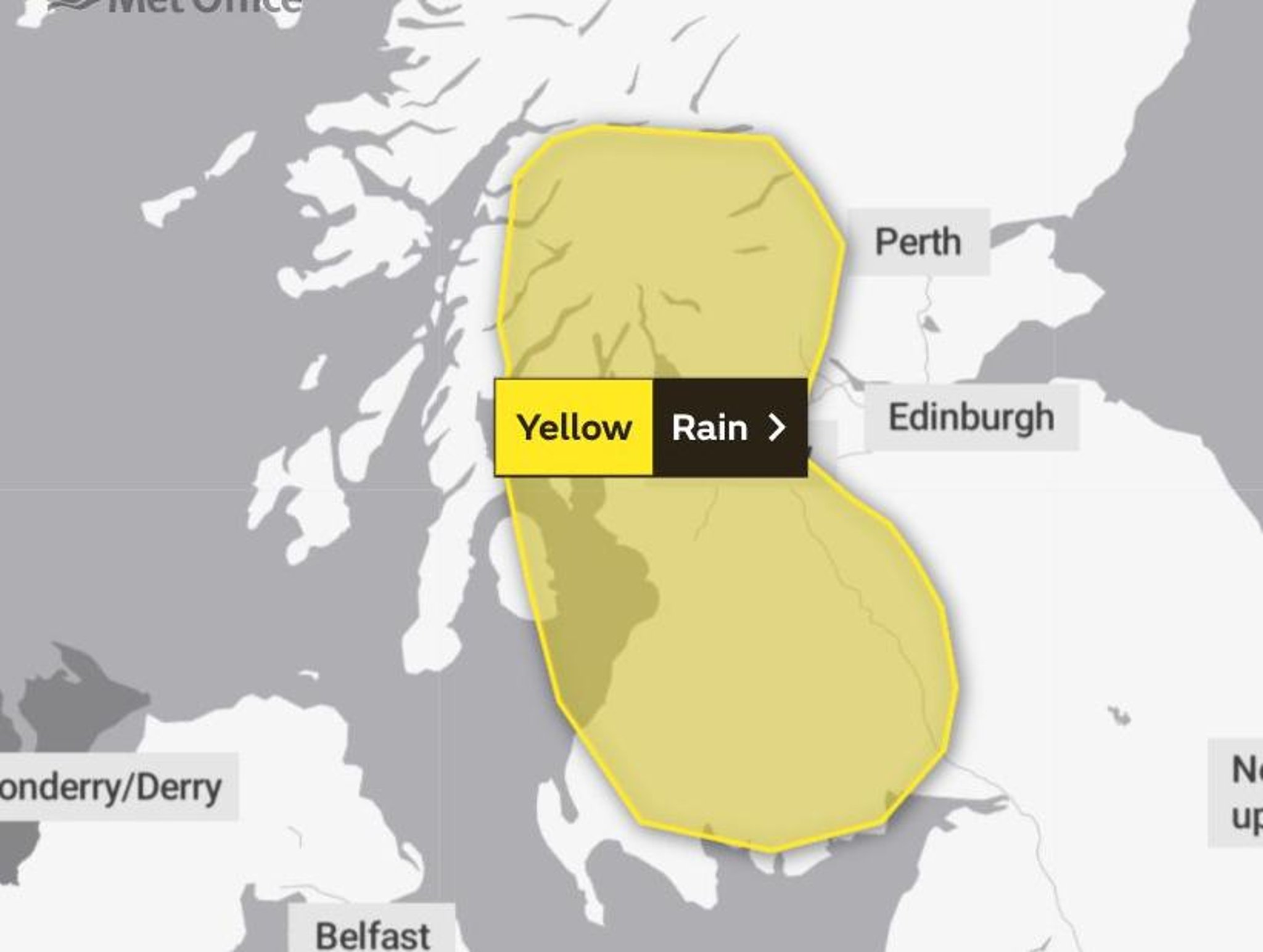 The yellow alert – "caution" – indicates that up to 90mm of rain is falling on the hills and 20-40mm on the lower lands to the west and southwest between Glencoe and Dumfries, including Glasgow.
It will be in effect from 9 p.m. on Saturday to 9 a.m. on Sunday.
The Met Office has warned of potential disruptions, especially to travel.
The warning will be in effect from 9 p.m. on Saturday to 9 a.m. on Sunday. Photo: Met Office
The landslide-prone A83 Rest and Be Thankful pass in Argyll will be closed from 7pm on Saturday for safety reasons.
Traffic will be diverted in convoys along the old parallel single-track military road further down Glen Croe Hill.
The Met Office said: 'A period of persistent heavy rain, accompanied by fairly windy conditions, will set in parts of the southwest and central Scotland on Saturday evening and last until Sunday morning.
"Rainfall amounts of 20 to 40 mm are expected quite widely, with perhaps as much as 70 to 90 falling in a few places on the hills."
The A83 traffic will be diverted onto the old military road below which is partially protected by a 6 m high dike. Photo: John Devlin
BEAR Scotland, which maintains the A83 for Transport Scotland, said the road would be inspected on Sunday morning to see if it was safe to reopen
He said: "Wet weather is expected to arrive in the area from late Saturday afternoon and is expected to be most intense overnight through Sunday morning.
"With up to 60mm of rain possible over the weekend and the resulting increased saturation of the hills, the decision has been made to shift traffic from the A83 to the old military road."