Tokyo 2020 Olympic Beds: Suitable for both sex and saving the planet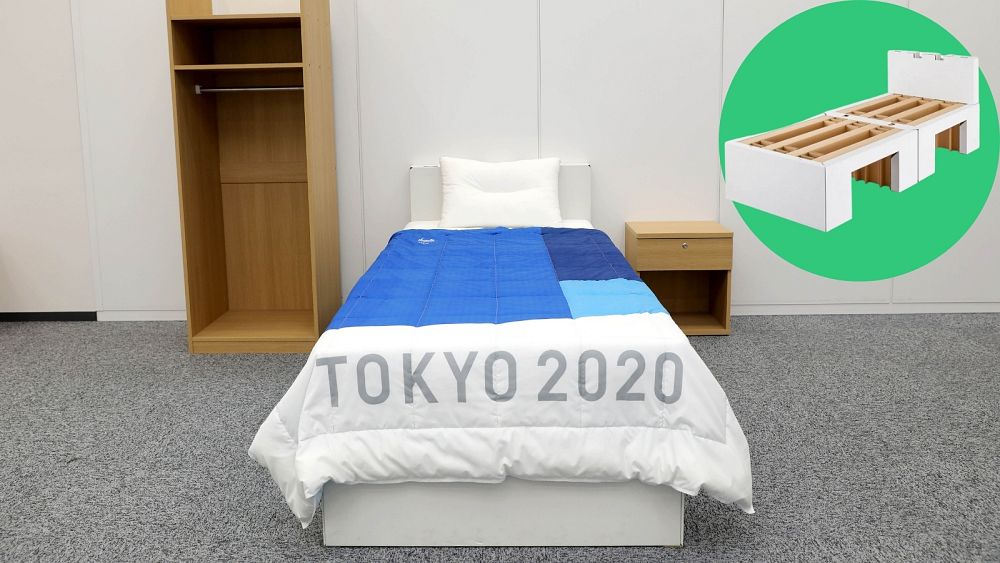 If you've been spending a lot of time on Twitter lately, you may have seen an unusual claim circulating that the beds in the Olympic Athletes' Village are designed to prevent sexual intercourse.
The prudish accusation comes from the fact that the organizers of Tokyo 2020 have opted for cardboard beds. The unusual modular frames have led to speculation that the organizers deliberately chose structures unable to support the weight of two people – especially if those people engage in some extra-curricular socialization.
US runner and Olympic silver medalist Paul Chelimo shared photos of the beds, alleging the design "aims to avoid privacy between athletes," especially in light of preventing the spread of COVID-19.
Chelimo joked that athletes should be careful if they wet the bed, otherwise they will end up sleeping on the floor.
While athlete villages are somewhat infamous for their noisy activities (at previous Games in Rio, a record 450,000 condoms were handed out to athletes – enough for 42 each), and organizers are undoubtedly keen to prevent a COVID outbreak, the beds are not deliberately proof sex.
In fact, the beds are capable of supporting up to 200kg – which, considering the average weight of an athlete in Rio was 72kg, is more than capable of holding at least two people.
Irish gymnast Rhys McClenaghan even put the beds to the test himself, as a personal service for any other athletes wanting to experiment with the weight limit. McClenaghan shared a video on Twitter of himself jumping on the bed.
"Apparently they're supposed to break with any sudden movement," the gymnast explains in the video, jumping onto the mattress. "This is fake! Fake news!"
The official Olympics channel even thanked McClenaghan for "debunking the myth", pointing out that "durable cardboard beds are strong!"
Not anti-sex, just ecological
While the beds have sparked a lot of fun speculation on social media, they are a lot more impressive than people might have realized.
It is the first time in Olympic history that athlete beds have been made almost entirely from renewable materials. Airweave, a Japanese bedding company, provides approximately 18,000 beds and mattresses.
"Cardboard beds are actually stronger than those made of wood or steel," Airweave said in a statement yesterday.
The mattresses are modular, which means they can be tailored to fit different body types of athletes, and are made from polyethylene fibers – which Airweave says can be recycled an infinite number of times.
The beds are part of the broader sustainability plan for the Tokyo 2020 Olympic Games, which aims to place the environment at the heart of the event, with a legacy that extends beyond 2021.
While the beds can be both durable and able to respond to adult activities, it should be noted that with three cases of COVID-19 already recorded in the Athletes' Village, it is probably wise that they are not used. than to sleep at this year's Games. .