Oil giant BP temporarily closes forecourt in Britain due to shortage of truck drivers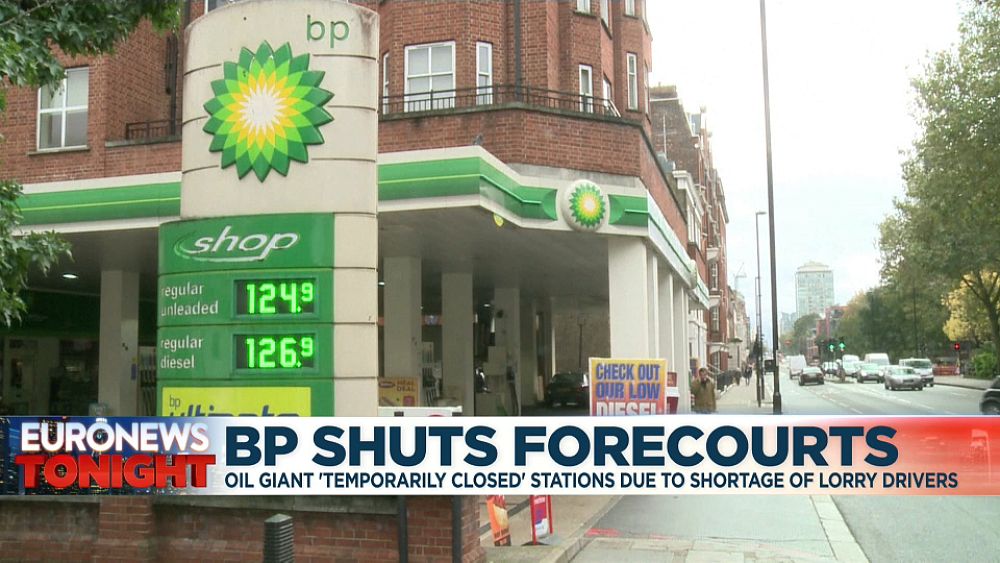 Oil giant BP said on Thursday it had temporarily closed some of its service stations in the UK due to a shortage of truck drivers.
The company experienced similar disruption issues in July and says the problem is "not a shortage of diesel and gasoline, but the lack of trucks to get fuel to the forecourt."
The move comes as the UK is also struggling to stock supermarket shelves. Tesco, the country's largest supermarket chain, told the British government there was a shortage of 800 drivers.
The shortage of truck drivers and in-store labor shortages have raised concerns about panic buying, especially as businesses brace for Christmas.
Cash bonus for new drivers
British media reported that Tesco's distribution manager warned the government there was a risk of panic ahead of Christmas.
"Our concern is that the images of empty shelves will worsen 10 times by Christmas and then we have panic buying," said the Tesco executive.
UK Euronews correspondent Tadhg Enright said fears of prolonged food and fuel shortages are real.
Tesco is one of many large companies in the UK offering incentives to try and get more drivers to work for them, including cash bonuses of £ 1,000 for new drivers hired, he explained. .
It is not the only supermarket to issue such warnings. However, as the government pushes employers of truck drivers to make more efforts to find Britons to fill their vacant truck driver positions, industry leaders have called on the UK government to relax immigration rules for allow them to recruit from abroad.