11 photos of Kate Middleton, Meghan Markle and other royals in topaz jewelry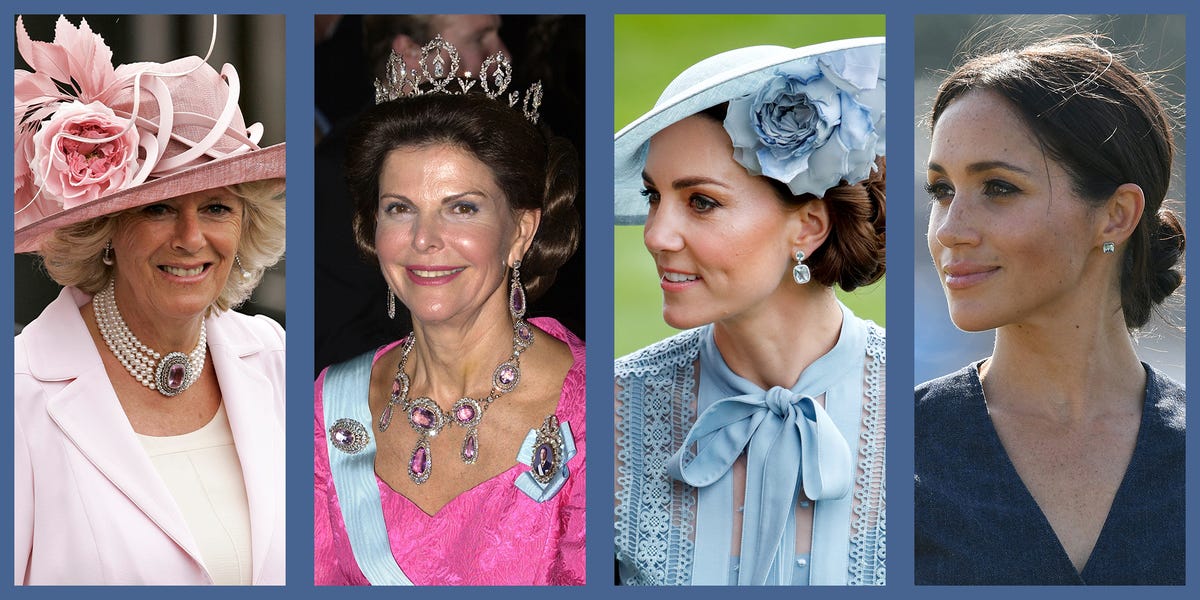 Attention November babies, your birthstone has royal notoriety. Topaz jewelry is particularly popular with royal women around the world. It makes sense: the stone comes in a wide range of colors, from sparkling pinks to sunny yellows to crystal-clear blues. It also has its own supposed meanings. The ancient Greeks believed that topaz provided strength, while Renaissance Europeans believed that the gem could break magical spells and appease anger. For centuries, some people in India believed that wearing topaz above the heart ensures longevity, beauty, and intelligence.
Whether you believe in symbolism or just find the stone aesthetically pleasing, there is plenty of royal inspiration for topaz wearers. Gemstones work for any occasion, with Meghan, Duchess of Sussex wearing them as causal earrings and Queen Sonja of Norway sporting the stone on a golden tiara. Below, check out all the times our favorite royals stepped out in topaz jewelry.
Catherine, Duchess of Cambridge
For the 2019 Royal Ascot horse race, Kate complemented her powder blue outfit with blue topaz earrings. The earrings featured two dangling topaz, surrounded by diamonds, from the Kiki McDonough brand.
Shop Kiki McDonough
Meghan, Duchess of Sussex
In a more casual take on the gemstone, Meghan opted for blue topaz earrings to attend a polo match in 2018.
Queen Sonja of Norway
Topaz is not exclusive to the British Royal Family. Queen Sonja of Norway has a modern tiara in gold and orange topaz and an accompanying adornment. Here, she is pictured attending a 2004 state dinner in Vietnam.
Catherine, Duchess of Cambridge
The Duchess of Cambridge certainly loves to coordinate blue topaz with a blue outfit. For the 2015 Spectrum premiere in London, Kate chose these extravagant topaz chandelier earrings.
Crown Princess Mary of Denmark
The Crown Princess of Denmark wore blue topaz teardrop earrings to attend the 100th anniversary of Copenhagen Business School in 2017.
Camille, Duchess of Cornwall
Probably the most famous royal topaz piece of jewelry is Camilla's pink topaz, pearl and diamond five row choker necklace. Through The court jeweler, the necklace was originally an Edwardian-era brooch which was purchased at auction (possibly by Prince Charles) in 2000. Here, the Duchess was pictured in the necklace at Royal Ascot in 2009.
Camille, Duchess of Cornwall
The Duchess of Cornwall had another Royal Ascot topaz moment. She wore this orange topaz and diamond brooch on the run in 2007.
Catherine, Duchess of Cambridge
Kate is clearly a fan of the topaz earring. This circular style got its start when the Duchess attended the UK Creative Industries Reception in 2012.
Camille, Duchess of Cornwall
Through The court jeweler, these earrings, which Camilla wore to a presidential banquet in Islamabad in 2006, are pink topaz and were purchased alongside Camilla's topaz brooch turned necklace.
Birgitte, Duchess of Gloucester
Queen Elizabeth's cousin is the Duke of Gloucester. His wife, Birgitte, is pictured wearing Queen Mary's honeysuckle tiara. The diamond setting was designed for Queen Mary in 1914, and the center stone can be swapped and removed. Here, Birgitte opted for a pink topaz. She paired the crown with a necklace of pink topaz, another heirloom from Gloucester.
Queen Silvia of Sweden
The Swedish royal jewelry collection is always enviable. Queen Sonja wore this elaborate set of pink topaz and diamonds during the 2003 Nobel Prize presentation.
This content is created and maintained by a third party, and imported to this page to help users provide their email addresses. You may be able to find more information about this and other similar content on piano.io